Norwegian Champion in Donald 2006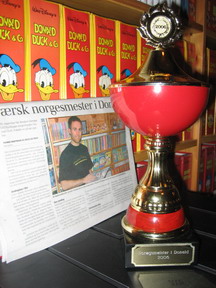 The trophy with "Noregsmeister i Donald 2006"
(Norwegian Champion in Donald 2006) engraved
The time of miracles isn't over. If there is something I never could imagine to experience, it must be being Norwegian Champion in something. But it happened! And in Donald, of all things! Absurd? For me, yes.
The website Andeby Online (In Norwegian) arranged in the period 1st to 20th November 2006 a Norwegian Champion challenge in Donald. The challenge's proposal was to measure the competitions' knowledge in Donald. It was given 5 questions every day, where the difficult levels raised as the days runned. We got a time limit on 24 hours, from midnight to midnight, in every round to find answers to the questions. The questions was varied, we got to remember names of different figures, stories, find out course of events in some stories. A big part of the questions was to recognize the drawers and the stories just by looking one only panel. Not to swagger, but I impressed myself pretty in the part of the questions.
Here is a little selection of the questions I had to answer:
Don't you believe me? Well, just read about me in the following news channels:
By the way, did I hear somebody say it was waste of time to read Donald?