A little about myself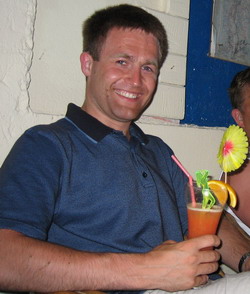 From Rhodes summer 2005
Hello, so you are intersted to read a bit about me...? Then I guess you will be disappointed because there is not some special interesting about reading about my life. But if you insists, so...
I was born at 03:35am 1st March 1980 (3 hours and 35 minutes earlier, and I would be a child of leap year!) in Stavanger old hospital. Two months later I got children's disea... uh... Too detailed? Okay, we skip it a bit.
When I was nine months old it was found that I was deaf, so it became kindergarten and schools for hard of hearing to me.
After I completed the primary school at Bore school (in Klepp), Auglend school (in Stavanger) and Hunstad school (in Bergen), I took subject of health and social + subject of child- and youth worker at Kongstein further school before I became a skilled worker of children and youths... are you still reading about my boring life...? Okay, then we keep on...
As a skilled worker of children and youths, and additional general subjects I had a relative good basic to begin with teacher education in 2001 at Stavanger University College (that by New Year 2005 became University of Stavanger).
4 years later I got through my education and became teacher for the general school with specialization in mathemathics (90 ECTS-credits summary). Later, the same autumn, I was temporarily employed as teacher in part time at Auglend school. By time my post rised to full post, and from 1st August 2008 the post became permanent. Today I still works there.
Still here...? Do you really want to keep reading about my boring life...? OK, we carry on...
I've been a scout in almost whole of my life, and the last 8 years, before I quit in 2004 caused by my studies, I has been leader fo a group with deaf scouts at Bekkefaret YWCA-YMCA in Stavanger. Beyond that I'm a huge fan of Donald Duck as you can see of my collection below... Weird enough, my interest in Donald has lead me to become Norwegian Champion in Donald in 2006...
Beyond that I love to travel and experience new places... The most exotic journeys I've taken is the journey to Japan in 1997, to Madagascar in 2000 and to Egypt in 2003, and also U.A.E., China, Mongolia and Russia in 2008. . Additional I also have visited a lot of countries in Europe, so by the time I've 27 countries + Norway on the list... ;-)
They that have reached this point of the text must either have too little to do, or my life may isn't so boring anway that it's worth reading about. I take this as a compliment.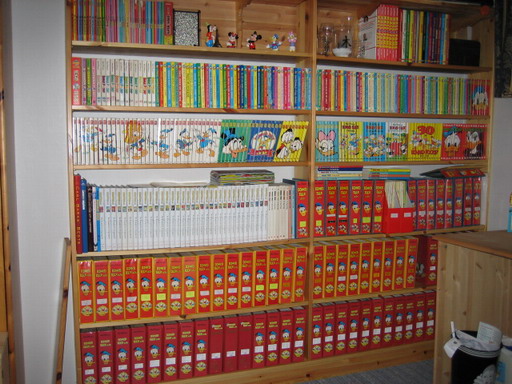 My «little» collection...